Artificial Intelligence-Driven Talent Acquisition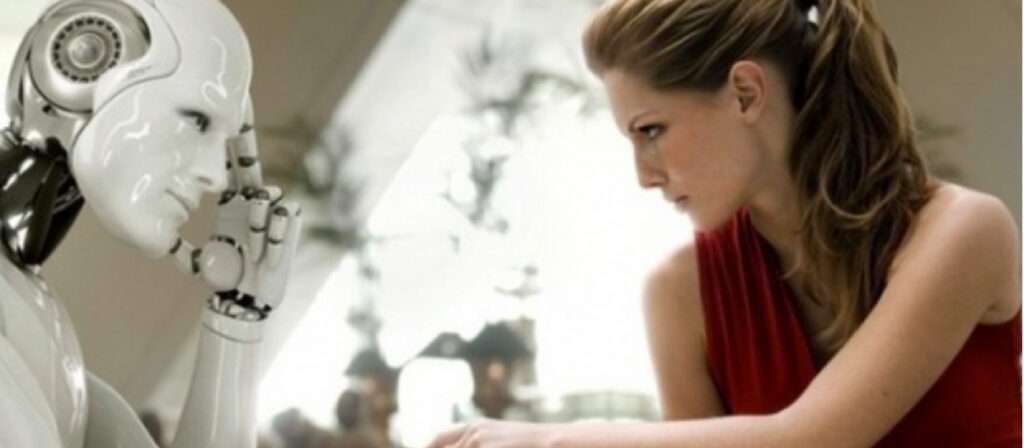 Executive Summery
This article primarily discusses how Artificial Intelligence is enabling the talent acquisition function. It describes step by step how these Algorithms are solving the problem in different stages of talent acquisition. While this is still a green field, some of the global companies have started using these algorithms as integration products to the current applicant tracking system.
Introduction
Talent acquisition is a crucial function of human resource management and recently it has witnessed many advancements, thanks to technology, especially Artificial Intelligence (AI). According to various analysts, five years from now talent shortage will be the predominant issue for Global Talent Acquisition Heads. This article explains how AI has become an integral part of HR and how it is impacting the talent acquisition teams. Recent research done by Randstad reveals that 96% of HR professionals believe AI has the potential to enhance talent acquisition and according to the Harvard Business Review (HBR),  44 percent of businesses are incorporating AI in IT functions too.
The challenges that are a nightmare for HR include engaging employees, sourcing the right employees and managing the high attrition rate. It is, therefore, important to have a robust integrated analytical platform that can provide crucial insights to candidates, employers, and recruiters, to help them make the right hiring decisions. Such platforms will also ensure that they are ahead of competition and contributing to their bottom line.
Artificial intelligence is no longer just an Intellectual Language. It can do wonders, provided it is augmented properly. The future is already here as a lot of companies have already adopted AI and peer pressure is making others consider utilizing it. Technologies like robotics and AI bring higher productivity and increased efficiencies by automating repetitive, low-value tasks thus allowing employees to increase their focus on more strategic work.
Our document dwells upon those AI tools and software that will help in different phases of talent acquisition as stated below.
Job Posting and Candidate Sourcing
Candidate Screening
Candidate Assessment
Interview Process
Offer Management and Onboarding
It will be interesting to delve into what application of AI – Machine Learning, Computer Vision, Deep Learning and NLP, etc., is solving problems in the above-mentioned stages of recruitment. We may not talk too much on Workforce Analytics/ Management or Employee Life Cycle post joining, so as to ensure we focus on the key aspect which is recruiting. Additionally, since Automation, Data Analytics and AI are terms used on multiple occasions; we do not intend to define these terminologies as there is abundant information already available on the Internet.
Glancing through the recruiting life cycle and AI used cases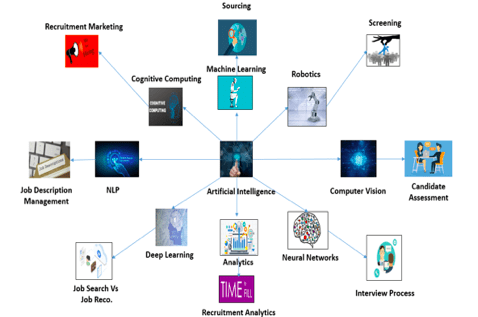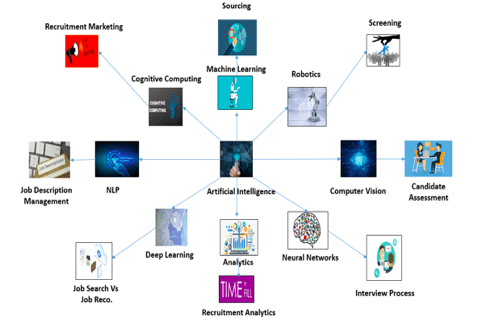 Chapter 1
Job Posting and Candidate Sourcing: Probable Solution
Job Ad Postings:
Job Ad Postings: Probable Solution
AI helps us to eliminate biased input/language in the job descriptions.  Sometimes we might not realize the verbatim that we are using in job descriptions may not be appealing to potential candidates or may be biased towards a specific gender. For example, using something like "we are looking for Design Super heroes" does not appeal to women's job seekers.
TEXTIO is a tool that helps recruiters improve the content of their postings. This product has shown that small tweaks in the language can make a big difference in response rates and the quality of applicants. It uses specific Natural Language Processing and Text Analytics as a technique. Top FMCG Company uses this platform along with leading IT companies.
Candidate Sourcing:
Sourcing the right candidate at the right time at the right cost is the phrase all the recruiting team members are aware of, and with numerous Portals it is important for a recruiter to source in the right place. Apart from the portals, there are various integrated web search methodologies that help in sourcing. Additionally, identifying passive candidates and engaging them is a part of a recruiter's journey in the quest for Talent.
CONNECTIFIER helps recruiters contact exceptional candidates by leveraging a constantly growing database. It uses Machine learning technique and helps in information retrieval, and scaling through the use of neural networks. This is a good Headhunting tool for recruiters.
ENTELO allows recruiters to source candidates from different groups based on gender, ethnicity, and veteran status. The algorithm used is Predictive Analytics and NLP. It is most relevant to recruit passive talent. Additional features are Job Posting, allowing candidates to apply within a software or on a company's website. The world's most recognized brands use Entelo to build great teams.
TALENTBIN is one of the best applicant tracking tool and is most effective in sourcing passive candidates. The technology used is Supervised/Unsupervised ML. TALENTBIN specialises in collecting total candidate information from their entire social footprint, team collaboration, and can be accessed from anywhere through the use of real time emotional analytics. Some of the Top IT companies use this platform to get access to passive job seekers
HIRETUAL is an AI-powered candidate sourcing and engagement solution that lets companies find the best talents faster. It uses Machine Learning algorithm for its operations. While it claims to find, engage, and hire the right people 10x faster. Web Integration through the use of robotics is the best part of this tool.
BEAMERY is a candidate relationship management system that uses machine learning to enable proactive recruitment and build talent pool. It uses predictive analytics and Natural Language Processing part of AI. It analyses interactions between candidates and employers, to identify target candidates, and helps recruiters build relationships with them. The world's leading High Tech organizations trust Beamery.
ARYA enables corporate recruiters, staffing firms, and RPOs of all sizes to source and engage with qualified job candidates by combining the benefits of AI with the power of human touch. The technology used is Machine Learning and Natural Language Processing.
6SENSE-MONSTER is asemantic search technology that enables employers to find the best candidates significantly quicker by analysing resumes as a hiring manager would. It uses Supervised/Unsupervised ML for its Operation. It does a good job when it comes to Parsing.
TEAMABLE platform transforms employees' social networks into dynamic talent pools that drive high employee engagement and makes referring relevant candidates easy. Basically this can be considered as an extension arm of currently running Employee Referral Program. It uses Predictive Analytics for its operation. Its intuitive workflows and powerful search functionality make it possible for recruiters to source passive candidates and immediately request warm, email introductions from employees.
TALEMETRY is a recruitment marketing company creating talent pool from various sources. It specialises in Build/Engage Talent Pool, Attract Candidates, Optimize Candidate Experience and Conversion, Source and Find Candidates through the use of cognitive computing. It uses Machine learning for its operations.
HIREABBY can be used as a sourcing tool which combines real conversations, resume data, and + 200 public sources to convert the best applicants to a Prospective Company. It Identifies, screens and engages candidates through the use of BIG ML. It runs on Machine Learning Algorithm.
HIREDSCORE uses SAP to run its operations and enables Human Resource departments to instantly identify priority candidates among active and passive applicants. It specialises in Big Data Analytics, Workforce Intelligence, Intelligent Systems, Predictive Analytics, Human Resources Automation, and Business Intelligence through the use of natural language processing.
ROLEPOINT is a platform which can be leveraged for effective referrals and internal mobility. It leads to employees' engagement and attracts the highest quality talent, thus bringing talent acquisition in line with today's social and connected world. It is based on Deep Learning and NLP. RolePoint is the leading referrals and internal mobility platform that helps recruitment teams find the best talent.
Chapter 2

Candidate Screening: Probable Solution
Once we have a good set of resumes the next logical step is to screen them and move forward towards prioritizing resumes. Stint is being done by resume parsing tool, but the big task ahead of recruiters is to find the best candidates to start engaging. Natural Language Processing (NLP), deep learning and machine learning are used to screen resumes contextually just like an HR expert. It can also match and rank candidates to help shortlist the best talent in just a few seconds.
TENSORFLOW is an open source platform which specialises in CV screening. It uses voice recognition, deep learning and neural networks for its operation. Tensor Flow is mainly used for: Classification, Perception, Understanding, Discovering, Prediction and Creation. In some sense it sits on the applicant tracking system and uses its algorithm to screen the candidates. It is used by top healthcare companies
POMATO helps in matching skills and short listing resumes. The technology used is Machine learning and Pattern Recognition. Matching engine uses contextual analysis and matches candidate profiles based on the required skills, roles, expertise level and then candidates are ranked according to their scores for the particular job.
CEIPAL is an intelligent, integrated, and scalable recruiting software and uses machine learning for its operations. It specialises in resume parsing and social media integration that helps in parsing the resumes from the available set.
CVVIZ is a recruitment software that uses AI to help us hire faster. It is cost effective and ensures quality hiring. Tool specialises in resume screening, video interviews and recruitment analytics through Natural Language Processing which serves as the backbone of the Tool.
IDEAL is an intelligent system that complements the existing HR software to make best data-backed talent decisions. It uses machine learning and Natural Language Processing to analyse rich candidate information from resumes, Chatbot conversations, assessments and performance data to enable recruiters with decision making.
TEXTKERNEL dissects what it sees on a candidate's CV and then allows recruiters to search for candidates using keywords. It specialises in CV parsing, web mining, information extraction, and document understanding by using Natural language processing technique.
MOSAICTRACK helps to identify best talent on Culture and Skill among the list of resumes by using Predictive analytics and Machine learning & NLP algorithms. It saves both time and cost for the TA heads. Used by a top Hospitality company.
FASTTEXT Helps in Marketing, sourcing and screening processes. This is a library created by Facebook Research Team for efficient learning of word representations and sentence classification. It is also helpful in finding the vector representation for rare words. It uses NLP as an algorithm to run.
MCQUAIG helps inRole Identification, Candidate Screening  and Candidate Selection touching upon Pre-Employment Assessment and Behavioural Hiring. It is an innovative talent platform which helps in driving down the hiring cost, increasing the retention rates and developing the employees more effectively. Works on Predictive Analytics and Cognitive Computing.
WADE & WENDY supports companies in acquiring talent, converting job seekers into applicants, and making informed recommendations throughout the recruiting process. When candidates apply, Wendy deploys a first-round interview using Wade and Wendy's dynamic chat interface.
Chapter 3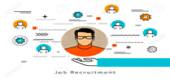 Candidate Assessment: Probable Solution
While the organizations focus on bringing the right talent, it is essential on their part to provide candidates with a great experience. Organisations have understood that their hiring process needs to be modified or enhanced to ensure good candidate experience.
CHATBOTs: Mya, Olivia, jobpal are one of the finest Chatbots which are built using NLP, machine learning that can strike a conversation with candidates and perform candidate screening. Interesting fact is that for Pre-existing candidate database, a text based Chatbot can initiate a message trail with passive candidates to know their interest in job openings and interested candidates can be pre-screened using basic or advanced screening questions. These Chatbots improve candidate experience throughout the hiring process, by keeping the candidate posted with regular updates. Currently used by a top search company for Pre Assessment alongside a couple of other companies
HOLLA is a social and educational platform which connects the employee & the recruiter. The technology used is computer vision. It is kind of a video chat product which can be leveraged for Interview Assessments.
HACKEREARTH/HACKERRANK helps in screening, inviting candidates and conducting assessments. This is based on Supervised/Unsupervised ML and NLP. The recruiter can View/Assess and compile the code before inviting the incumbent for interview process. The proprietary tech assessment platform vets technical talent through skill-based evaluation and analytics. Currently used by a Top Ecommerce Company.
SWOOP TALENT is a talent data & integrations platform from HR Tech Experts. It can be used in all stages to solve talent data management problems. It integrates various data management systems, creates reports, analyses and displays constantly refreshed data. It interprets complex data sets through the use of cognitive computing. Currently used by a Top search firm.
MY ALLY'S is an AI-powered solution for automating the scheduling and coordination of candidate interviews. Best part of it is it helps to Discover & Attract, Interview and Hire, On-board and Retain best employees. It uses Machine Learning algorithm for its operations. Currently used by Top Ecommerce Company.
HARVER is disrupting the recruitment industry and providing companies with an intelligent way to evaluate and automate all aspects of candidate selection, while simultaneously fighting unconscious bias in the process. Harver adds a unique, tailor-made experience component to hiring process that candidates will love. The technology used is Predictive Analytics, NLP, Data and Self Learning algorithms to make reliable hiring decisions. Used by leading financial advisory company.
KANDIO is a faster and cheaper way to screen candidates with online assessment tests from a growing library of topics. It uses Machine learning algorithm. Kandio integrates with platforms like Facebook and LinkedIn. The platform can be customized for specific technology or domain. Best part of this is its security as it is fool proof with its use of video proctoring technology.
MCQUAIG is also a screening tool that uses job profile as a benchmark and measures a candidate's personality and cognitive ability with any combination of our psychometric tests and assessments. The results will automatically match the best candidates suited to the role based on the predictive analysis of their potential success and their level of job and culture fit. In our research, we found that a top bank is already using this.
Chapter 4
Interview Process: Probable Solution
Interview Process plays an integral part in Talent Acquisition and this has different aspects like Assessment, Selection and Candidate Experience. This area is trending and companies are busy gathering a lot of Competitor intelligence to ensure they are ahead or perceived ahead of the competition through an elite Interview Process. We all understand that it is candidate market and we have to enable great candidate experience even to those who may not reach the finish line as we all know that the candidate can be a future employee, future share holder or ambassador for the experience. Technical and Behavioural assessment/interview along with aspects like body language, pitch tone, eye movements, facial expression etc., needs to be assessed to find personality traits of the candidate.
HIREVUE is a digital recruiting company dedicated to finding the best talent for their clients using video intelligence for interviews. It specialises in human capital management, video screening, mobile interview, HR Tech, Artificial Intelligence, Pre-Hire Assessments, through the use of real time emotional analytics and computer vision.
CALENDLY is an AI powered solution used to identify suitable interview slots. This tool specialises in productivity, scheduling, efficiency, recruiting software, and lead conversion through the use of real time emotional analytics. The technology used is machine learning.
X.AI helps tackle the administrative nightmare of scheduling interviews with the aid of Machine Learning, vertical AI, Intelligent Agents and Productivity through the use of NLP.
BELONG specialises in Resume Search, Assessments, Candidate Management, Interview Management, Job Requisition & Posting, Onboarding, and Reference Checking through the use of NLP. Discovering and engaging talents and measuring and optimising the Interview Process through predictive analytics is a unique feature of this product. Currently used by top Indian telecom company.
INTERVIEW MOCHA is an online assessment software for pre-employment skill testing. It offers Pre-employment Skill Testing solution to recruit quality candidates and reduce administrative hassles in recruitment using machine learning. It specialises in Online Skill Assessment Testing, Multi-Competency Assessments, Advanced Online Proctoring Mechanism and Employee Skill Testing through the use of neural networks. Currently used by top Data processing company
TALOCITY is an AI-based one-way video interview platform. The engine sends an SMS, email, and IVR to the candidate with a video job description link. The candidate clicks on the link, watches the video JD, and if he/she likes the company, he applies through a one-way video interview. The employer presents the questions for the interview and they can be offered in 39 different languages of the world. This is based on Computer vision, Predictive analytics and Pattern Recognition. Currently used by top retail company
PAÑÑÃ (PANYA) is a platform which can be leveraged for evaluation, recorded interviewing, video conferencing through voice and face recognition. It help recruiters and interviewers simplify the applicant screening process. Algorithms used are Machine Vision/Computer Vision and Cognitive Computing.
X0PA AI provides Artificial intelligence tools to Companies, universities and institutions to empower them to make objective and fair selections for campus hiring scholarships, early admissions, internships, campus hiring or anything that involves people and choices, inclusion of diversity and eliminating bias.
LEVER, JOBPAL, BAMBOOHR, RANDRR, BULLHORN, TALENTLYFT, TALENTSOFT, TEXTRECRUIT, SAPAPPCENTER, HRIS, CASSONE, RESTLESS BANDIT, GREENHOUSE, SCIKEY, TALVIEW, PARAM.AI, MYNEXTHIRE, PROBUDDY, SNAPHUNT, and JOBVITE are Recruiting platforms (Applicant Tracking Systems) that can perform sourcing, assessment and Interview Process. They are based on Supervised/Unsupervised ML and NLP. They have built-in Chatbots which can be leveraged for screening and candidate engagement. Conversational Chatbots can improve a candidate's experience throughout the hiring process by promptly responding to their queries and informing them about their progress.
Chapter 5
Offer and on boarding Process: Probable Solution
When it comes to offer and Onboarding, the main objective of talent leaders is to keep the hiring process paperless and more data driven. AI can minimize mundane HR tasks by automating the delivery and receipt of necessary paperwork. AI and Chatbots can work around the clock, guiding a new hire through all aspects of Onboarding and answering questions as they arise.
It provides new employees, an overview of company policies and login information for job related portals through automated tools and also tracks that the document has been thoroughly read and captures electronic signatures as new hires finish steps, removing the need for HR to confirm this completion manually. Candidate engagement via communication and branding is the essence of the hour. While most of the Applicant Tracking systems have state of the art/ease in offer letter generation and delivery we will discuss a few aspects on how AI is making its presence felt in this step.
On boarding and Offer Management– Probable Solution
ENBOARDER is an experience-driven Onboarding platform that transforms employee Onboarding into an ongoing, rich, and consistent experience, at scale. It provides all the tools necessary for organizations to maximize employee engagement through machine learning.
TALMUNDO specialises in keeping new employees engaged once they are recruited. It gives 360-degree view of the organization, and a chance to introduce themselves through the use of Chatbots. It helps in building a great pre-boarding and Onboarding experience for employees. The technology used is machine learning.
EVOLV helps organizations to recruit, train, and manage their people. The computer software impacts every aspect of the employee experience, helping people to make their best work even better. It runs on Predictive Analytics and Pattern Recognition. Currently used by top hospitality companies.
SKILLATE has an expertise in online learning. They provide all the tools and courses required for the employees of the organization which can be leveraged at the time of Onboarding or in future employee life stage. It specialises in mobile app, A.I. delivered micro learning, person-to-person author training, learning and development, talent management, training management systems, strategic training planning and delivery system through the use of BIG ML.
SABA helps in enterprise learning, talent management, and collaboration solutions which can be leveraged in the Onboarding and future stages. It is based on Machine Learning and NLP. The best part of it is the analytics that it can be leveraged to performance, succession and talent management process of an enterprise. Currently used by top hospitality company
OPTIMUM HRIS is used for Payroll & Attendance management. It is designed to suit specific needs of the enterprise and web-enabled in house software for Windows, IBM as well as cloud based SaaS solution. The technology used is machine learning.
Xopa.Ai is a complete ATS which runs on Many AI algorithms like Machine Learning, Deep Learning and Computer Vision. Their Video Interview Platform is one of its Kind and gives the users many features to play with and an Analytical Engine which runs and gets the data as desired format to have the decision Making.
University Relations/Early Talent Program:
This is a very strategic Function of Talent acquisition and AI has done good amount of work in Job Posting Management, Fresher Screening and Assessment. There are few instances of use on candidate management post offer to campus graduates. Popular Tools are Aspiring Minds, Merittrac. Xopa.AI, TopHyre and few others.
Chapter 6
Conclusion
While AI is a great enabler, there are misconceptions among individuals that AI can take away jobs and recruiters may become redundant. Further issue is that the Algorithm may learn the human bias which could be a bigger challenge. AI is still in an experimental stage and when the right set of principles is adopted in the system, the tendency of error becomes very low. With concepts of reinforcement learning coming in, it is up to the team to enable the system to learn the right things.
Improves Speed of Hiring: Chatbots can perform candidate pre-screening and sourcing tasks. This saves a huge amount of recruiter's time which they can now spend on engaging with the most suitable and interested candidates.
Augments Source of Hiring: For example, you could find LinkedIn is a better social platform or that Facebook helps to market your Sales job. Is it GitHub or Stackoverflow that gives you better matching Python developers? Which recruitment agency works best for you and many more? This helps you to budget your recruitment finances wisely, and focus your efforts in the right direction.
Improves Quality of Hire:  Traditional recruitment practice runs on first come first serve basis. We generally source the bunch of resumes and then screen those, or vice a versa. However, this is done in bits and pieces. Also, everyone including our competitors are also looking at the same set of candidates. We need to be more agile and quick in order to reach quality candidates. Using AI for recruiting helps identifying quality candidates much earlier in the hiring process. This gives us an opportunity to engage better talent much sooner.
What we have learnt from the past is technology does take away jobs but comes up with new ones in time, which we cannot predict initially. Same is the case here, technology will affect existing HR jobs but will create new ones too. There are some data points on how AI can be used in Sentiment Analysis, Personalized Employee Experience, Cognitive Decision Making but all of these are at an experimental stage.
There could be few barriers like Talent Gap, Privacy Issues, Integration Issues, Limited Proven Intelligence, and Financial Barriers which I think time will solve.  AI is a great enabler and Artificial Intelligence coupled with human intelligence is the Future.
The author of this Article is Vishwanadh Raju who is a seasoned Talent Acquisition professional with over 17 years of experience in managing Talent Acquisition in Product Development and Investment Banking Captive organizations. He has managed business transformation with a talent acquisition strategy. His expertise lies in both high volume and niche hiring. He managed Global Talent Branding, Candidate Experience, and University Relations. Currently, he is Managing Global Talent Acquisition for a well know Engineering Solutions Company